Schedule

Thursday, June 22, 2017
Veteran's Memorial Park (Rain Location: Oostburg High School, 410 New York Avenue)
12th & Park Avenue, Oostburg, WI
Time: 6:30-8:30pm
Enjoy a concert in the park in this beautiful park setting!
---
Monday, July 10, 2017
"Music Under The Stars" at Beautiful Buttermilk Creek Park
Fond du Lac, WI - 7:00-8:30pm
700 S. Park Ave.
Bring your picnic blanket or lawn chair and enjoy a concert under the stars!
Rain location is at Fond du Lac Fairgrounds.
---
Sunday, July 30, 2017
St. Thomas the Apostle Church Picnic
8100 Brunner Road, Newton, WI
Time: 2:30-6:00pm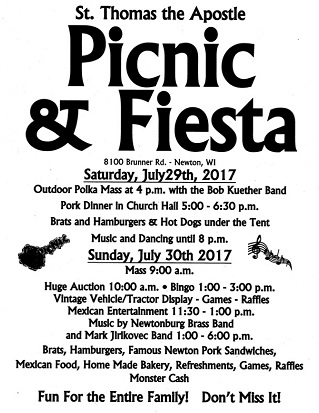 ---
Sunday, August 6, 2017
Great Northeastern Wisconsin Largest Czech & Kolache Festival
Heritage Farm - N2251 Hwy 42, Kewaunee, WI
Time: 1:30-4:30pm
---
Wednesday, August 16, 2017
Mishicot Concert Series
Holy Cross Parish Church Grounds (Outdoor Concert) - 423 South Main Street
Time: 6:00-7:30pm
New. location! Bring your lawn chair or picnic blanket and enjoy some of summer's best music!
---
Saturday, August 26, 2017
Saturday Night Fun on the Green!
Greendale Gazebo Park (Corner of Broad Street and School Way)
Greendale, WI
Time: 7:00-8:30pm
---
Saturday, September 16, 2017
Titletown Oktoberfest
320 N. Broadway St., Green Bay, WI
Time: 4:00-7:00pm
Located in the new Brewery and Tap Room! This is one Oktoberfest you don't want to miss!
---
Saturday, September 30, 2017
Appleton Oktoberfest
Location: Corner of College Avenue and Appleton Street (Houdini Plaza)
Time: 9:00-10:30am
Keg Tapping Ceremony at 9:00am to kick off the Oktoberfest! Prost!!!
---
Saturday, September 30, 2017
Oktoberfest at the  Bavarian Bierhaus
700 W. Lexington Blvd. - Glendale,WI
Time: 8:00pm-midnight
Reserve your tables now! This is one Oktoberfest you don't want to miss! 
---
All dates subject to change without notice. If traveling long distance please call ahead.
VIEW SCHEDULE FOR THE BOB KUETHER BAND