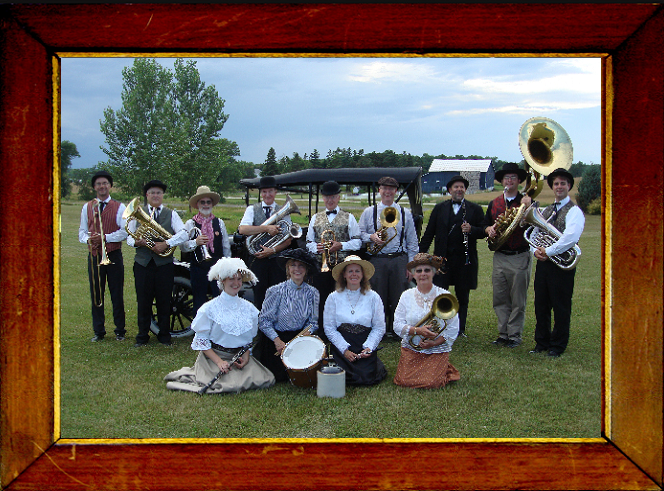 The Newtonburg Brass Band is a lighthearted recreation of an early 1900's small town brass band.  Thirteen musicians in authentic attire perform the music that was once the primary source of culture and entertainment in small town America before the days of automobiles, radios and television.
The band's roots can be traced back to about 1904 when members of St. John's Church of Newtonburg (southwest of Manitowoc, Wisconsin) formed a brass band to play for picnics, dances, and special occasions. Conducted by Ernst Rusch, the band operated until the first World War, disbanded, and nearly vanished into history.
In 1999 a group of musicians led by veteran band leader Robert Kuether discovered old photos of the Newtonburg band and decided to re-create the 1904 group. New instrumental sheet music was written to replace lost or unreadable parts. A search for authentic uniforms and vintage instruments was conducted.  Instruments with exotic names like "double bell euphonium", "alto horn", "trombonium" and "helicon tuba".  Additional players were recruited and in February 2000 the re-created Newtonburg Brass Band rehearsed for the first time in over 80 years.
The band features marches, light classics, concert band favorites, early Dixieland, and a large repertoire of American, German or Czech polka and waltz music. A popular part of their concerts is the sing-a-long songs such as "Bicycle Built For Two", "Meet Me In St. Louis, Louie", "The Band Play On" encourage concert attendees to carry a tune.  A Dixieland procession through the crowd is a regular crowd pleaser.
The Newtonburg Brass band performs at concerts, parades, picnics, grand openings, Czech and German festivals and fairs. They are especially appropriate for the sesquicentennials being celebrated by many midwestern communities and parishes.  The band might not arrive by horse and wagon, but as soon as the music begins, you'll know right away what it was like to live in a simpler more easy going time.  A time when the primary source of entertainment was the small town band.
*Available for Grand Openings, Concerts, Oktoberfests, Picnics, Parades, Fairs, Historic American, German or Czech festivals or the occasion of your choice.